Mixtape 36
Monday 03 May 10 [17:27:04]
Baroque Dub Mixtape Thirty Six [bdmx0036] Righteous & Upfront Dub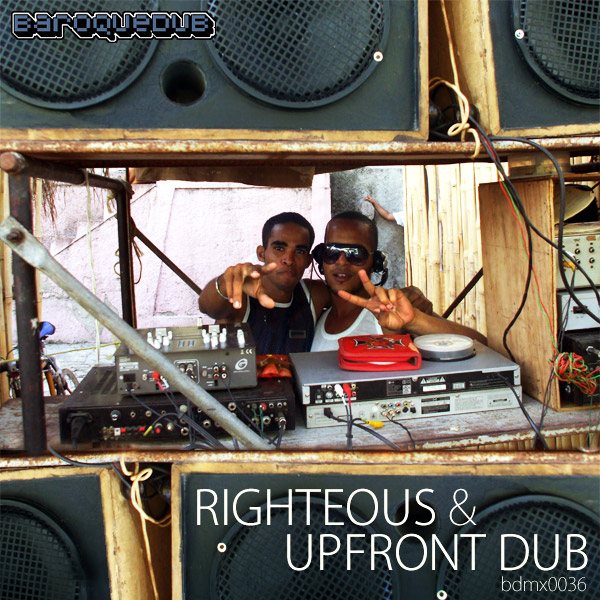 download (192kbps mp3) [113MB]
People get ready for some upfront and righteous dub - the Upright Sound System gets the party started before Tone396 (the first of two contributions from the legendary Version Big-Fi producer) takes the reins and propels the mix into proper dance territory.

We take a slight breather with Prince Jammy before Dan-I and King Kietu get us back to more sound system goodness. Slimmah Sound's deep, soulful anthem is a beauty to behold and flows into yet more conscious sounds from Ijahman - a cut from the fascinating Time Warp Dub Clash (Old School vs. New School) compilation LP. At which point it seems a good time pay our respects to the originators with The Revolutionaries' Outlaw Dub before morphing back to the new school with a Manasseh mash-up.

Israel Vibration's sweet, sweet harmonies lead on to more pure roots majesty from Peter Broggs & Jah Warrior. Then Brother Culture's digital dancehall sound reminds us of how far we've come from Don Carlos and the Roots of Dancehall. Time to ease into Dub Scientist's wonderfully melodic Creation, before Barry Brown heats things up again with Fire, Fire and Lone Ranger rattles off his extraterrestrial shaggy dog story. More vocal bliss courtesy of Prince Alla with a track that's simply awesome in the depth of both its production and its message, followed by further conscious lyrics from AMP Outernational featuring Echo Ranks on vocal duties.

Version Big-Fi represent again with their up-for-it take on The Bug's Skeng, leading us neatly into a sprinkling of dubstep and the Phokus remix of Jazzsteppa's Five. Dubsteppers are still peddling their wobble bass but this one's got more than enough charm in its use of rootsy horns to let the track rise above some of the unoriginality of the genre. Someone who certainly couldn't be accused of doing things by numbers, trailblazer Disrupt makes yet another appearance on a baroquedub mixtape with a suitably over-cooked yet sizzling production.

We're nearly home. It could have all ended with Linval Thompson's A Wicked Dub but Espers provide just one more track to cleanse your pallet and let you drift off to where ever you're heading. Until next time...

[01] Upright Sound System - Righteous Dub (00:00)
[02] Tone 396 vs Bob Marley and the Wailers - Exodus (04:20)
[03] Prince Jammy - Throne of Blood (10:10)
[04] Dan-I and King Kietu - Perfect Love (Dubplate) (13:05)
[05] Slimmah Sound - Thanks and Praises Dub (15:54)
[06] Ijahman - Whip That Tarantula (19:59)
[07] The Revolutionaries - Outlaw Dub (23:13)
[08] Manasseh - Last Call Pub (24:31)
[09] Israel Vibration - Unconquered People and Dub (28:55)
[10] Peter Broggs & Jah Warrior - Lef Babylon and Dub (32:23)
[11] Brother Culture - Tru De Valley (35:56)
[12] Don Carlos - Roots Man Party (40:10)
[13] Dub Scientist - Creation (43:12)
[14] Barry Brown - Fire Fire (45:40)
[15] Lone Ranger - U.F.O. (48:50)
[16] Prince Alla - Captive Birds (51:26)
[17] AMP feat. Echo Ranks - Mr Warmonger (55:11)
[18] Version Big-Fi vs The Bug - Skeng (Big-Fi remix) (58:19)
[19] Jazzsteppa - Five (Phokus remix) (63:24)
[19] Disrupt - Chip On Fire (69:10)
[20] Linval Thompson - A Wicked Dub (73:07)
[21] Espers - Black Is the Color (76:44)

With thanks to the original artists for their music and inspiration.
Support them by buying their music.
Last Updated
03-05-10 [17:59:35]

by