Mixtape 44
Thursday 25 April 13 [21:54:24]
Baroque Dub Mixtape Fourty Four [bdmx0044] Misshapen Pearl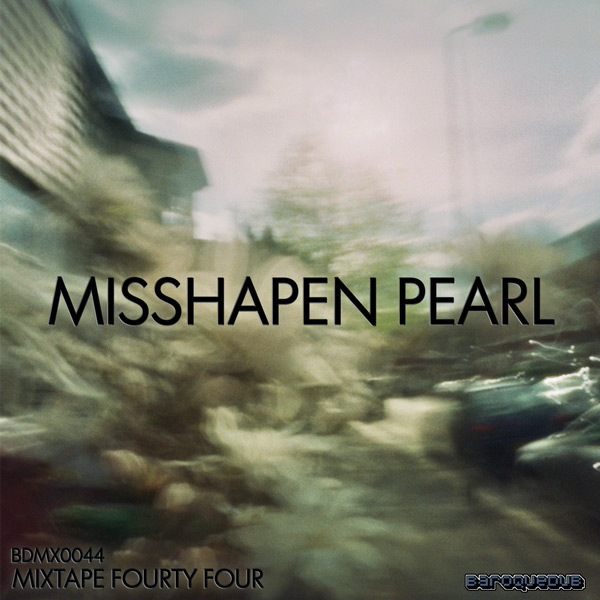 download (256kbps mp3) [171MB]
We kick things off in fine style with a massive dubwise selection from Bass Explorer Sound System's flo.wise, representing with a superlative roots dub reggae riddim mix. Then no apologies for promoting yet another Pupajim cut (after the two played on the last mixtape) What can i say? I'm still loving his voice! Similarly, yet another Dreadsquad track on rotation here, this time showing just how good he is at bringing the best out of a mix. This reworking takes the Skrillex/Damian Marley anthem back to its reggae roots by removing all traces of that dubstep wob wob bass. You could almost say he's taken the Skrillex out of the track and come up with a masterpiece. Time for some digidub classics with Michael Rose and Willie Williams both in full effect before taking a breather courtesy of King Tubby's Gold Dub. Then it's my very great pleasure to big up the mighty Friendly Fire band - I'm not just honoured to know them as friends but also one of their biggest fans. This single off the highly recommended Balsall Heat LP is one of the best things they've done. Much respect.
Mr Williamz' Sit Down Steady is more slackness than I'd usually play out but with such an infectious riddim you'll just have to ignore the lyrics. Then Jah Screechy's Walk and Skank which I was reminded of by a recent remix of the track by Version Big-Fi. This leads quite appropriately into another of their top class remixes - this time of MikkiM's Guns Of Kingston, itself a reworking of the Clash classic. Got to love reggae for its infatuation for version 'pon version! No apologies for featuring Version Big-Fi yet again, for me they represent all that's best in online music culture and they truly deserve every shoutout they get.
Once more at risk of repeating myself, here's another choice performance from Alborosie - I'll let my Sicilian heritage excuse me for again plugging his music, but this track has such jump up hip-hop energy that it deserves the exposure. Then next up is another track from Prague-based DJ, producer and musician MikkiM. He's not unlike Dreadsquad in flirting in the mainstream and a kind of upfront reggae that sometimes flies a little too close to handbags-in-the-air territory... what's no doubt great live party music can sometimes be a little too cheesy for me, but this track's got enough invention in its manipulation of sampled loops to keep things interesting.
For this release I wanted to steer a bit further away from the usual safe reggae selections and what better way than to follow up all this breakbeat dancehall than with a Coldcut track - these guys are unwittingly responsible for my love of dub reggae as I used to avidly listen to their KissFM shows on Saturday nights during the 90s. Their beats and sampling mayhem was followed in the schedule by Manasseh's own radio show - which became my education in bass culture.
Since things have descended into a bit of nostalgia, why not throw in some Stone Roses and a dash of Radiohead? The 90s was a massively influential period for me musically but I've never stopped looking out for good new music. The last two selections on this mixtape are a good reminder that something interesting is always out there waiting to be discovered... Firstly the Havanna Boys come up trumps with a pretty good K&D impersonation before we ride into the sunset with the wonderful latin electronica of Cabo San Roque remixed by Luciano. Until next time.
With thanks to the original artists for their music and inspiration. Support them by buying their music.
[01] King of Kings / Babylon Man - flo.wise selection (00:00)
[02] Pupajim - Mr Bossman + dub edit (06:12)
[03] Skrillex & Damian Marley - Make it bun dem (Dreadsquad remix) (11:36)
[04] Michael Rose - Binghi Dub (14:40)
[05] willie williams - Iya One Say (19:01)
[06] Roots Radics - King Tubby's Gold Dub (22:44)
[07] Lion Art feat Elevayta (with Friendly Fire Band) - Welcome to Holland (25:30)
[08] Mr Williamz - Kriminel (Riddim) (29:09)
[09] Mr Williamz - Sit Down Steady (29:36)
[10] Jah Screechy - Walk and Skank (33:08)
[11] MikkiM ft. Zareb & Squeechie - Guns Of Kingston (Version Big-Fi Mix) (37:10)
[12] Alborosie - Ragamuffin (43:10)
[13] MikkiM feat Quench - Grrrlz (46:39)
[14] Coldcut - Boogieman (49:21)
[15] The Stone Roses - Shoot You Down (Soul Hooligan Remix) (53:49)
[16] Radiohead - Street Spirit (Dirty Dub Hole) (58:18)
[17] The Havanna Boys - Paul's Dub (65:30)
[18] Cabo San Roque vs. Luciano - Calypso 08 (71:11)
Last Updated
25-04-13 [22:23:01]

by