Mixtape 27
Thursday 01 January 09 [23:51:01]
Baroque Dub Mixtape Twenty Seven [bdmx0027] Back to my roots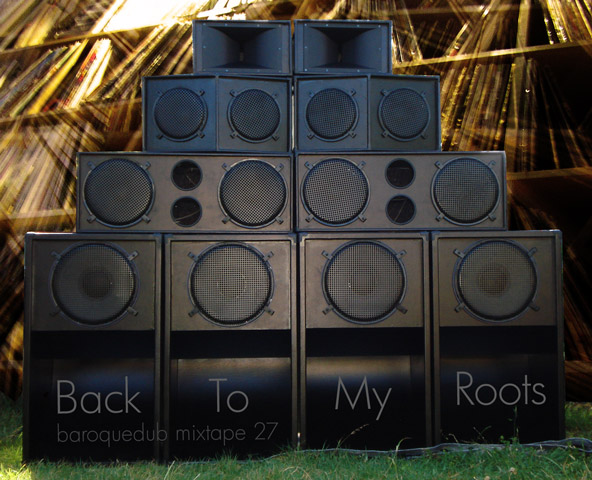 download (192kbps mp3) [111MB]

This selection is a strictly rub-a-dub, bass heavy return to basics with a massive collection of roots, reggae and dub anthems. Including not one but three exclusive mixes and covering the usual spectrum from 70s classics to modern day disciples, enjoy this carefully crafted low frequency feast. Big up the baroquedub massive!

Tracklist:
[01] Deadbeat - Night Train to Paris (00:00)
[02] Eva Be - Into My Blues (feat. Pegah Ferydoni) (04:34)
[03] Molecule - I Dedicate (feat. Nemo) (08:57)
[04] Sardinia Bass Legalize - Leaves (14:04)
[05] Capital Letters - UK Skanking (12" disco mix) (18:50)
[06] Bim Sherman - Golden Locks (26:55)
[07] Ruts DC - Whatever We Dub (30:03)
[08] Sism-X - Land for Everyone (exclusive baroquedub re-dub) (36:00)
[09] Ethnic Fight Band - Pressure Them In Dub (40:07)
[10] Kuba - Give It Time (Indian Summer Mix) (42:32)
[11] Alborosie - Kingston Town (47:55)
[12] Big Youth - Political Confusion (Small Axe) Wood'n'Spoon Remix (50:38)
[13] Jah Shaka - Throne of God (54:18)
[14] Abassi All Stars - Crisis (58:49)
[15] Tippa Irie - Praises / Dubdadda - Screaming Terror (baroquedub ROOT021 mash-up) (61:47)
[16] Jahdan Blakkamoore - Varela (66:22)
[17] Wildski - Wonderful World (exclusive baroquedub b-vox mix) (68:49)
[18] The Observer All Stars - Casanova Dub (74:24)
[19] Glen Brown - Do Your Thing (77:15)

With thanks to the original artists for their music and inspiration.
Support them by buying their music.
Last Updated
02-01-09 [13:35:56]

by