Mixtape 8
Wednesday 03 January 07 [07:03:08]
Baroque Dub Mixtape Eight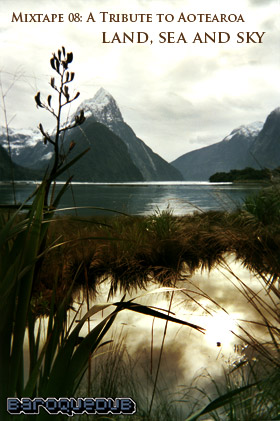 Opening with the first of two remixes from Hirini Melbourne & Richard Nunns' Te Ku Te Whe (a classic of modern Maori music) this mix is a celebration of the rich tapestry of New Zealand music.
First off a Skream dubstep cut gets an airing having somehow missed out on an appearance on mixtape 6. Then Messrs Friedman and Liebezeit set the scene with some tripped out digi dub before Salmonella Dub and Katchafire start us on our journey. The Hulu Project's German/Siberian crossover is a reminder of Kiwis' lust for the big OE (overseas experience) before returning to their home and roots.
The rest of this CD length mix is almost a who's who of New Zealand reggae - anoraks might be interested to learn that International Observer is non other than Tom Bailey who spent the 80s as one third of The Thompson Twins (who'd have thought it?!).
I couldn't resist dropping a Sixtoo track - after the disappointment of DJ Shadow's last album I reckon this guy's definitely the new king of instrumental hip-hop.
Finally Downtown Brown and The Sunshine Sound System make an appearance as a reminder to anyone who's passed through Wellington and had a chance to party on the now sunk F69 frigate - once the best bar/venue I think I've ever been to. And how could I miss out Fat Freddy? Never as good on record as the electrifying live band they really are, I highly recommend you all go out and treat yourself to their recent DVD.

"He taonga whakamiharo" [Treasures to be admired]


download (192kbps mp3) [88.3 MB]

Tracklist:
[01] Hirini Melbourne & Richard Nunns - Takapau Horanu (Chris Macro Remix) *[NZ] (00:00)
[02] Skream - Morning Blues (01:01)
[03] Burnt Friedman & Jaki Liebezeit - Fearer (02:32)
[04] Salmonella Dub - Problems *[NZ] (05:28)
[05] Katchafire - Sensi Dub (Pitch Black Remix) *[NZ] (11:00)
[06] Hulu Project feat. Stepanida - Kuhugngu Kustuhuu (14:31)
[07] Hirini Melbourne & Richard Nunns - To Po (Pitch Black Remix) *[NZ] (19:45)
[08] Sola Rosa - Don't Leave Home *[NZ] (24:25)
[09] The Black Seeds - Tuk Tuk *[NZ] (30:06)
[10] Jo Dukie & Fitchie - Midnight Marauders *[NZ] (34:01)
[11] Tigilau Ness - From Street To Sky *[NZ] (42:10)
[12] International Observer - Cellphone Dub *[NZ] (45:54)
[13] Sixtoo - Duration (6 of 16) (50:57)
[14] Downtown Brown - Unadrumma (Sunshine Sound System Remix) *[NZ] (52:10)
[15] Fat Freddy's Drop - Ernie *[NZ] (57:01)

*[NZ] = made in aotearoa


With thanks to the original artists for their music and inspiration.
Support them by buying their music.
Last Updated
03-01-07 [07:16:34]

by