Mixtape 42
Monday 17 September 12 [13:59:13]
Baroque Dub Mixtape Fourty Two [bdmx0042] Feast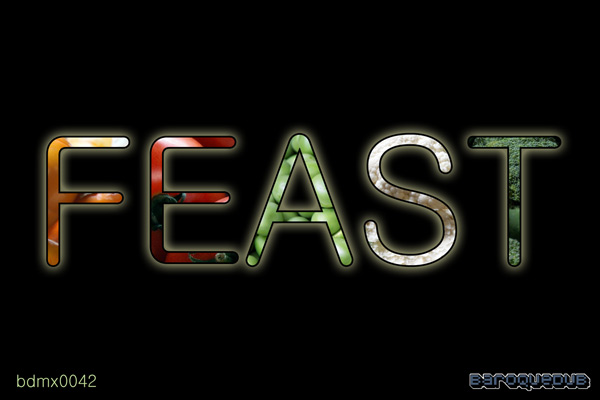 download (256kbps mp3) [148MB]
To kick things off Ez3kiel and Manasseh brew up a potent psychedelic dub stew that sets the tone for the usual globetrotting adventure into rich sonic delights.
Juakali, a singer and MC from Trinidad currently based in Los Angeles, picks up the story with a heartfelt anthem that's both dark and brooding yet full of light and optimistism. Next up, Greek dub artist Vlastur represents with fat slice of soundsystem friendly dub sprinkled with eastern string samples and beautifully shimmering delays.
As Greece is feeling the brunt of the financial sector's uncontrolled, under regulated, self-serving greed - a tragedy that's callously leaving entire nations in its wake, it's time to speak up about exactly where money and priviledge come from. "How did you get your money, Sir? Where did you get your money, Sir? Who did you walk on? Who did you steal it from?" Sweet and true, from the Adrian Sherwood-produced album 'Longtime Traveller' comes a truly prescient and heartfelt song full of sorrow but powered by the undeniable logic of a truth that's too authoritative to be ignored.
Midnite's Pagan Pay Gone takes us deeper into a conscious meditation on the same theme. Their hypnotic chant is beautifully picked up by Jolly Mukherjee's deep bass lament. Known as India's King of Strings, here he underpins his usual cinematic arrangements with fat bass and skanking guitars that take us on journey to sun-baked desert caravans full of eastern promise.
From these evocative, exotic travels, Lady Ann brings things straight back to the here and now of street concerns with a great track from an unofficial special tour CD by Scicilian reggae superstar, Alborosie.
Time to take a breather with an uncharateriscally laid back Noiseshaper contribution before DJ Riot submerges us into deep aquatic dubstep territory. We emerge with Freear's bootleg remix of Isrealites. Cheeky and fun, it bounces along with such pure joy that it's easy to forgive how overcompressed and raw it sounds (can't ask too much of a freebie mix). Although probably only meaningful to UK residents of a certain age it's hard to resist the nostalgic charms of those Vitalite samples!
Time to get back to some proper roots and culture, first off with Zap Pow on an infectuous funky reggae tip then courtesy of a classic Prince Far I & the Arabs instrumental cut. Wayne Jarrett and Earl Sixteen bring up the rear before we wrap things up with a little known Bob Marley and the Wailers downtempo doowop love song from their early rocksteady period.
[01] Ez3kiel - Handle With Care (00:00)
[02] Manasseh meets The Equalizer - Flash It Again (04:30)
[03] Juakali - Living in Babylon (07:06)
[04] Vlastur - Cycladic Dud (10:45)
[05] Jeb Loy Nichols - To Be Rich Is a Crime (15:57)
[06] Midnite - Pagan Pay Gone (19:34)
[07] Jolly Mukerjzee - Madhuvanthi (25:31)
[08] Alborosie, Specialist & Friends - Informa feat. Lady Ann (30:47)
[09] Noiseshaper - Cultura Pura (33:56)
[10] DJ Riot - Mermaid Dub (37:45)
[11] Freear - Israelites Remix (40:30)
[12] Zap Pow - United (44:49)
[13] Prince Far I & The Arabs - Lion Stone (48:28)
[14] Wayne Jarrett - Praise Jah (55:25)
[15] Earl Sixteen - Foot of the Mountain (58:59)
[16] Bob Marley and the Wailers - Chances Are (61:43)

With thanks to the original artists for their music and inspiration.
Support them by buying their music.
Last Updated
17-09-12 [14:01:06]

by