Mixtape 15
Tuesday 02 October 07 [21:33:38]
Baroque Dub Mixtape Fifteen [bdmx0015] Playlist Patchwork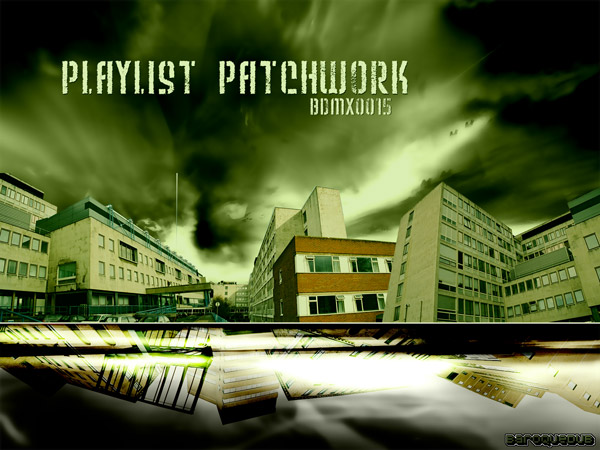 download (192kbps mp3) [88.1MB]
It's back to baroquedub basics on this new mixtape collection with a veritable patchwork of tunes both old and new. A deceptively slow burning three deck mix kicks off the proceedings before a pair of upfront dub gems turn up the heat and get things off to a proper skankin' start. But hold on, just before you know where you are Mark Pritchard's new take on library music sneaks in on the one drop rhythm and takes us into programmed drums territory... Pressure Drop's on an eastern vibe while South African Felix Laband serves up one of those drop dead gorgeous slices of MOR electronica. A proper random playlist mashup that somehow all hangs together. You might notice that I'm having a bit of a big beat revival here with both UNKLE and Kasabian providing big instrumental choons before The Nomad (aah, how I still miss NZ) steers us back subtly into the world of reggae. And what a varied world it is - Aisha's Mad Professor produced classic from '86 is a great reminder of how influencial UK roots reggae became in that decade (is it me or did the Orb almost base their entire career on a steal of her soulful vocal riff?). Then Majbour delivers a wonderful remix of Ennio Morricone before Earl 16's wonderful Niyabinghi takes us back to a time of punky reggae, when differences between musical subgenres were less important than the quality of the music. The Au Pairs' Headache For Michelle has just got to be one of my all time favourites - great groove, great lyrics and I'm delighted to be able to present this absolute classic in all of its 12" glory. All this indie nostalgia isn't as off the wall as it seems as it's without a doubt fueling a new wave of bands and fans whether new rave or electro-punks and just to prove that ripping off your idols is a tradition as old as music itself here are The pastels doing an uncanny Velvet Underground/Moe Tucker ditty. Now that's what I call rock'n'roll.
Tracklist:
[01] Krill.Minima - Palmengasse [thn039] (00:00)
[02] pole - Rondell 2 (02:46)
[03] Monolake - Television Tower (08:19)
[04] Pirate Dub - Milotant Dub (13:50)
[05] Yabby You & King Tubby - Rock Vibration (17:24)
[06] Mark Pritchard - The Holy Track (20:57)
[07] Pressure Drop - The Calling (24:49)
[08] Felix Laband - Miss Teardrop (27:19)
[09] UNKLE - Chemistry (30:49)
[10] Kasabian - Ovary Stripe (33:43)
[11] The Nomad - Where are you? (37:14)
[12] Aisha - The Creator (39:51)
[13] Majbour - Addio A Cheyenne (45:15)
[14] Earl 16 - Niyabinghi (50:12)
[15] The Au Pairs - Headache For Michelle (Version) (53.38)
[16] The Pastels - Nothing to be done (60.18)


With thanks to the original artists for their music and inspiration.
Support them by buying their music.
Last Updated
02-10-07 [21:48:44]

by