Mixtape 23
Monday 09 June 08 [23:30:28]
Baroque Dub Mixtape Twenty Three [bdmx0023] Reggae Dub Wise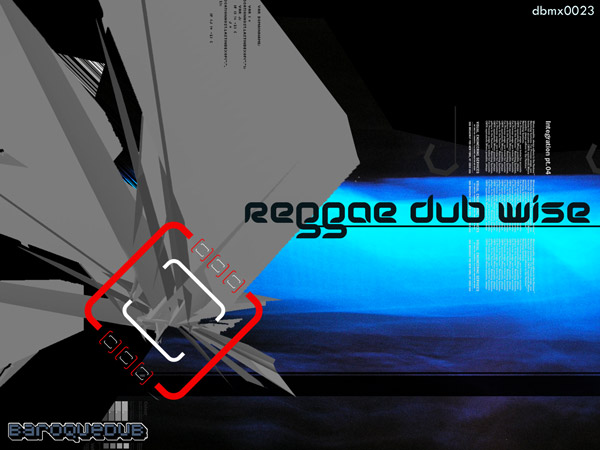 download (192kbps mp3) [98.9MB]
Prepare yourselves, this one's more than a little bit special... Following on from the last instalment's appearance by Yabass, I'm very proud to showcase some more of the artists from the excellent ReggaeDubwise music community website. I'm privileged and honoured to count myself as a member amongst such luminaries of the online reggae scene.
First off, though, Salmonella Dub kicks the proceedings off with the first in a sprinkling of Kiwi acts - still can't get over the wonderful land of the long white cloud. Watch out for more Aotearoa dub courtesy of Basscamp and Pitch Black, later on in the mix.
Don Fe is a don indeed amongst the world wide community of reggae producers at ReggaeDubwise.com. Here he represents with the wonderful Iron Flute Dub, followed up by DUBSYNATICX's super-chilled Treasure Isle Dub. Lackatee's another of my favourite artists at RDW. Here he's in full effect with a choice dub featuring Zacheous Jackson.
The Radikal Dub Collective pick up the pace a little before Version Big-Fi show off the talents which quite rightly earned them a nomination for "Best Dub Recording Or Album" at the 2008 Reggae Academy Awards... we're all proud of you guys!
From the Dub Syndicate's classic Commandment to Stereotyp breaking all the rules, Fruity's Diced and Sliced brings us neatly to Earlywrm, another producer creating waves online with his fresh and truly original productions. Basscamp edge us into more modern, dance orientated styles before Manudub displays his versatility with a hypnotic deep house cut which slips effortlessly into Pitch Black's Alternate State of consciousness. More dance floor action, although this time of a very different type, from Black Grass. The recent album launch party for their forthcoming third Long Player showed a too-cool-to-dance hoxton crowd how to boogie with a very special mix of soul, funk, hip-hop and reggae. Thanks for bringing a little bit of Brighton to the capital :)
Finally, just one more dance floor selection before Big Bud winds up the proceedings with an uncharacteristically downtempo offering.
Tracklist:
[01] Salmonella Dub - Problems (dat little ting dub) son.sine mix (00:00)
[02] Don Fe - Iron Flute Dub (05:16)
[03] DUBSYNATICX - Treasure Isle DUB (08:37)
[04] Lackatee - Weh do deh Dub (Zacheous Jackson in Dub) Drummie Zeb Riddim (11:40)
[05] Ai Bod Dub (To Be Dub) - Llwybr Llaethog Mewn Dyb (In Dub) excerpt (15:26)
[06] RADIKAL DUB KOLEKTIV - DUB is on the move (15:54)
[07] Version Big-Fi - This is the Law (Big-Fi Dub) (20:24)
[08] Dub Syndicate - Roots Commandment (23:47)
[09] Stereotyp meets Al'Haca - Synthesis (feat. Sara) (29:11)
[10] Fruity - Diced and Sliced (33:52)
[11] Earlywrm - Lightfeather and Dread (38:41)
[12] Basscamp - Honour Bound (Basscamp Remix) (42:17)
[13] Manudub - Stop Di Pressure (feat. Sista Da) (47:135)
[14] Pitch Black - Alternate State (53:41)
[15] Black Grass - Nice Up (58:49)
[16] Dubstrible Sound System - Raggatronique (64:12)
[17] Big Bud feat. Hooligan - Super8skank (68:08)


With thanks to the original artists for their music and inspiration.
Support them by buying their music.
Last Updated
10-06-08 [00:44:50]

by