Mixtape 31
Wednesday 24 June 09 [14:50:05]
Baroque Dub Mixtape Thirty One [bdmx0031] A deep and joyful meditation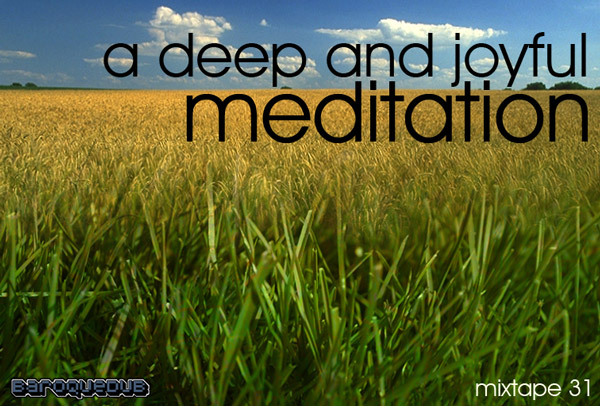 download (192kbps mp3) [105MB]
"Here I come, here I come"... It's straight in, no messing with Lee Perry's take on The Slickers' warning to the shotta bad boys - a selection many of you may know as an entirely different mix from the film 'The Harder they Come'. That's right, this one's my own celebration of Island Records' 50th! We're now in deep dub territory (Cultural Roots and an unknown french? white label) before Kromestar's modern interpretation of the old school acts as a perfect foil to Harry Mudie's visionary 'Dub with a Difference', a genre breaking mix of classical strings that sounds more like a DJ Shadow experiment than the 70s dub classic it actually is.

Then the first of two offerings from The Gladiators - a roots outfit who somehow never quite received the mainstream recognition they deserve - and back to more instrumental nuggets with Pete Chemist and a Bunny Lee production from I-Roy's Dread Baldhead LP. Stalwarts of the genre, Alpha & Omega, on a minimal tip, here represent for the UK soundsystem scene before Misty in Roots get us back to some ital lyricisms. Daweh Congo's not exactly blessed with the best of singing voices but there's a real charm to this conscious sermon (nothing to do with the Nick Cave track of the same name!) and finally the Gladiators, again, show us how it's really done with more of their sublime harmonies.

An untitled track from The Soul Syndicate, arguably Jamaica's finest group of reggae instrumentalists takes the mix on a more upbeat slant before some Fresh Moods and the Digital Analog Band getting all Mystical with a joyful and breezy reggae-influenced lounge track perfect for getting in the mood for the summer festivals. More spirituality courtesy of Stefan Obermaier, an up and coming alumni of Kruder & Dorfmeister's Vienna school and another relatively unknown artist/producer well worth keeping a close eye on; A Man Called Pj, a friend from the ReggaeDubwise community who's 'Sound Like' (feat. Bongo Chilli) takes dancehall in all the right directions - conscious, fun and danceable.

All good things come to an end and as Abja's wonderfully slow groove dissolves into Tom Waits' hypnotic marimba it's time to take our leave. Until next time, enjoy.
Tracklist:
[01] The Slickers & Lee Perry - Johnny Too Bad (Disco Style) (00:00)
[02] Cultural Roots - Ghetto People (06:16)
[03] Unknown (from the Se Dub compilation) (09:41)
[04] Kromestar - Demon Slayah (13:52)
[05] Harry Mudie - Dub with a Difference (18:30)
[06] The Gladiators - Chatty Mouth (21:09)
[07] Peter Chemist - Red Stripe Dub (24:08)
[08] I-Roy - Franco Nero (27:17)
[09] Alpha & Omega - Dub Flute (29:46)
[10] Misty in Roots - Poor & Needy (33:06)
[11] Daweh Congo - Mercy Seat (37:10)
[12] The Gladiators - Hearsay (40:37)
[13] The Soul Syndicate - Untitled (Live & Love/Dub Festival LP) (43:35)
[14] Fresh Moods - Big On (46:06)
[15] Digital Analog Band - Mystical (53:38)
[16] Razoof & O'Finken - Spirituality (Stefan Obermaier Dub) (59:00)
[17] A Man Called Pj - Sound Like (feat. Bongo Chilli) (64:52)
[18] Abja - Rebel I Lion (67:54)
[19] Tom Waits - Shore Leave (72:18)

With thanks to the original artists for their music and inspiration.
Support them by buying their music.
Last Updated
12-09-09 [16:38:57]

by