Mixtape 16
Thursday 01 November 07 [10:01:41]
Baroque Dub Mixtape Sixteen [bdmx0016] The Battle Lines Are Drawn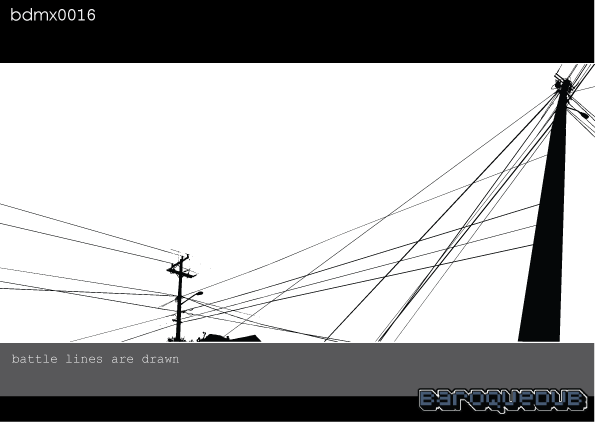 download (192kbps mp3) [88.5MB]
Dark times. Prepare yourselves for huge slabs of dub infused beats, breaks, dancehall and reggae. This take no prisoners mix isn't recommended for the faint hearted. From Spectre's damning indictment of the human race to Dub jihad's proclamation of a righteous war, this is a deep and thoughtful collection of tracks which'll take you from intense dark grooves to Kruder and Dorfmeister-like lounge respites. The battle lines are drawn, time to choose sides.
Tracklist:
[01] Fun-Da-Mental - The Last Gospel (00:00)
[02] Skream - Dub Period (05:39)
[03] Spectre - The Struggle Continues (07:57)
[04] Sly & Mo - Darker Sensimillia (10:17)
[05] High Tone - Replay (13:46)
[06] Radikal Dub Kolektiv - Burn Them (20:23)
[07] Bullitnuts - Tipple Tales (24:33)
[08] Fila Brazillia - Harmonicas Are Shite (28:20)
[09] Cutty Ranks - The Stopper (Richard Dorfmeister's Full Moon 6 Live Dub) (33:39)
[10] Katchafire - Collie Herb Man (Sola Rosa 'Run Come For You' Mix) (38:50)
[11] Mad Cobra - Must Get Ahead (43:44)
[12] Confucius and Mysterious D - Dangerzone V.I.P. (Dancehall Remix) (46:49)
[13] Aja Addy - Ballaphone Sound (excerpt) (49:28)
[14] Khoe Wa - Supra Sri (excerpt) (50:19)
[15] The Aloof - Hot Knives at Lunchtime (50:20)
[16] Spank Rock - Chilly Will (55:26)
[17] Dub Jihad - Barbare (59:10)


With thanks to the original artists for their music and inspiration.
Support them by buying their music.
Last Updated
01-11-07 [10:01:41]

by