Releases
The Burden of Dreams EP [bd000]
A mini album release to inaugurate this new website. It's been a long time since It's a Lifestyle Thing. Times have changed and so has the music. The exuberence of youth has given way to a more assured production. Gone are the eclectic and relentless beat mash-ups, a new idea at every turn, and there's not even a sign of an illicit sample...

Stripped of the clutter, what's left is a purer essence of the baroquedub ethos - reggae tinged electronica with one foot in the chillout lounge and one foot on the dance floor. All the trademark melancholy moods remain, with instrumentals in search of a song and uplifting anthems designed to test your speakers.
Another soundtrack for our lives, certainly, but maybe more about harmonious living rather than the chaos and nihilism of previous releases.
download (192kbps mp3 zip package) [39.5 MB]
download graphics (1024x554) [164KB]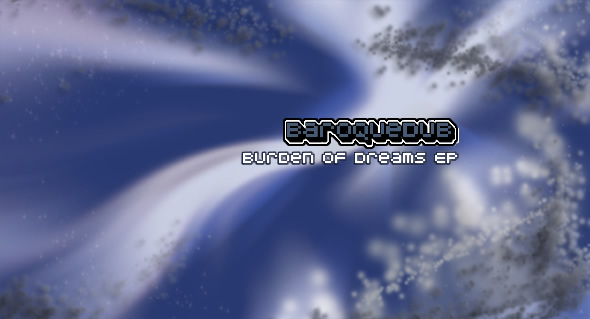 Baroque Dub - Wearing Nothing But Attitude
Baroque Dub - Magister Ludi
Baroque Dub - Rhythm 3 (Sub Dub Mix)
Baroque Dub - Burden of Dreams