Releases:
Version Excursions 4 [bd006]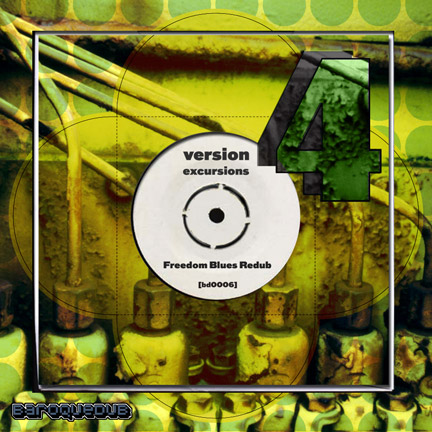 After a couple of mini-EPs exploring the darker side of dubstep this release marks the return of the Version Excursions series with a very special trio of riddim reworks.
The A side, 'Freedom Blues Redub', kicks off the proceedings with an upfront, club orientated remix reminiscent of the recent hypnotic grooves of Sandoz. With a tempo which has been jacked up to 123bpm you may not even recognise the original - anoraks should check out the MIDI file preview on the midi riddims' page for a reminder.
The B sides are more understated but no less interesting. First up 'Tempo (Basic Mix)' serves up a classic reworking complete with funky orchestral synth stabs and classical oboes - classic 'cheap' reggae sounds full of innocence and charm.
Finally, a subtle 'Every Tongue Shall Tell' mix explores shimmering electronica spaces with synchopated delays and filtered reverb fx.
All in all a wonderful example of less is more.
download (192kbps mp3 package) [22.5 MB]
[Side A] Baroque Dub - Freedom Blues Redub
[Side B1] Baroque Dub - Tempo (Basic Mix)
[Side B2] Baroque Dub - Every Tongue Shall Tell