Baroque Dub
Working under the 'Copyright Free Anarchy' moniker, these recordings are considered by some to be at the forefront of what's now thought of as the bootleg or mash-up scenes. Actually they're mostly sample-heavy workouts inspired by early Coldcut radio shows and the rise of UK Jungle circa 1996.
Mentioning no names, a number of record labels and publishers showed a lot of interest, attracted by what was, at the time, the definitive flavour of the moment. Their lawyers soon put a halt to all that...
It's A Lifestyle Thing (LP)
Jonny from Eclectic Method used to beg me to release this - he even offered to handle the sample clearances. The fool!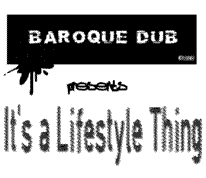 tracklist:
01. bubble music [00:00]
02. millennium party vibe [03:58]
03. kill for me [07:56]
04. db dub [12:38]
05. le funk [17:17]
06. milton groove [21:06]
07. brown is the new black [25:42]
08. the last of his tribe [30:42]
09. electric city [33:55]
10. king sequence [38:53]
11. call me black [43:46]
12. the comeback special [48:25]
For full effect burn as a continuous audio mix. Written as the soundtrack to an imaginary film, no artists were harmed during the making of this album. Copyright Free Anarchy in full effect.
download original 1999 CD release (320kbps mp3 package) [119 MB]
The album is also available in a cleaner remastered format which will please the audiophiles, if not necessarily the crate digging purists. Make up your own minds...
download remastered release (320kbps mp3 package) [119 MB] more info
Hipster (parts 1 & 2)
From the 'Unfinished Business' second album, some beats and breaks editing fun, ending on a slightly cheesy organ melodic chord progression - you could almost call it the baroquedub blue print.
Call Me Black
Initially sent out to Future Music and Making Music back in 1995 I remember thinking I'd finally made it when it was chosen as 'demo of the month' by both magazines. A few months later I was touring with Dodgy and my musical career changed once again.
Never officially available before this is the album version.