Munchbreak
Live and studio engineering and production





From open jams to festival favourites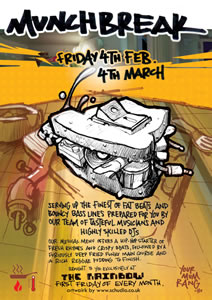 What started up as an open jam upstairs at Patrick Kavanagh's pub in Moseley, Birmingham (UK) is fast becoming a fully fledged band to be reckoned with. A founder member (well I volunteered my engineering skills) I've let the guys (and girls) get on with it in recent years.
I was recently called on to provide mixing and additional production to their first release on Jibbering record's fledgling label.
In the time honoured 'by friends for friends' tradition their official website is also a Baroque Dub production. Read more about the PHP/MySQL content management system I set up for the collective in the new media section of this portfolio.
Popcorn
From their very first EP, this track sees the Munchbreak collective in hip-hop mode. Witness the dextrous vocal talents of Mr. Muz, DJ Feva and Paradox.
Be sure to check out their website for more promos and DJ sets.