Fuzzmagic
Production, live keys and FX

Live space funk
Formed in the wake of fader5000's demise, this live experimental space funk outfit shone brightly for a short period before being overshadowed by the demands of the Munchbreak collective.
Lineup: Damon Wilding (drums), Jason Evans (bass), Lee Stowers (keys), Jerome Di Pietro (keys, live FX and production)
None Of The Above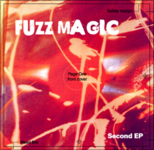 Featuring the inimitable DJ Feva guesting on decks, this track is probably the best and most succinct demonstration of FuzzMagic's instrumental funk explosions.
Inspired by early Funkadelic and 70s era Miles Davis, the band remained primarily a live act performing across Birmingham (UK) including a memorable performance at its International Arts Festival in 2003. Unfortunately few of these live improvisations ever made it to tape.
Here's your chance to hear some of that elusive magic.