Film and Television Soundtracks
Composer, producer, a/v mix engineer.
2x4

With Nigel Clark. Original score and music supervision role on behalf of HuncaMunca music productions. Work included mix supervision in New York.
Jimmy Smallhorn's debut feature was an award winner at 1998's Sundance Film Festival.
[IMDb]
Refuge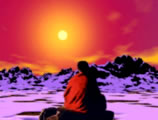 Original score with Nigel Clark. This project involved a trip to India to record exiled musicians and monks, material which was later orchestrated into a coherent score.
Based on the true story, this short film by Alice Troughton and Phil Hunt cleverly interweaves Buddhist theology with a day in the life of Dolma, a young Tibetan refugee.
Middlemarch arts documentary
Original score for a Middlemarch productions/ Channel 4 documentary. With Nigel Clark.
Lipstick and Letterbox
Mix and production for this UK independent short. Original music composed by Paul Belben.
The Climb
From the short film Refuge this features recordings I made of tibetan refugees in exile (Dharamsala, northern Indian).
The singer is called Tobden. I heard him singing to himself one morning having breakfast on a roof-top cafe overlooking the Himalayas and asked him if he'd mind me recording him. The result is what you hear. In these days of 'Pop Idol' its something special to hear someone singing with such fresh and untainted emotions. The flute I captured as I walked past a school in Dharamsala and the 'harmonium' I created by layering various synths and samples.
Somehow all these elements were just meant to work together.
Refuge Puja and End Titles
Also from refuge, this track starts with a montage of a loud and warlike religious ceremony called a puja which is intended to ward off evil spirits and which in the film serves to articulate the chaos of 'samsara'. It then develops into a vocal piece featuring one of the loudest singers I've ever heard. This vocal style was developed to project songs across the mountain valleys of Tibet.
Middlemarch - end titles
End titles sequence from the middlemarch documentary produced for Channel 4 (UK).