15 Tracks Vol. 2
Tuesday 01 February 11 [00:04:27]
Volume 0002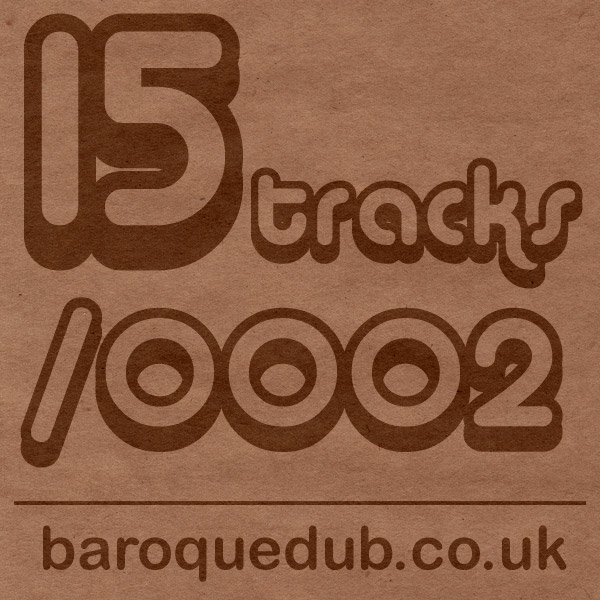 01 - Joy Division - Atrocity Exhibition (Live)
02 - Johnny Moore - Red is Danger
03 - Caspa - Marmite (Original Mix)
04 - Lonnie Liston Smith & The Cosmic Echoes - Cosmic Funk
05 - The Heptones - Sweat For You Baby
06 - Garnett Silk & Tony Rebel - Help The Poor And Needy
07 - Savath y Savalas - Colores Sin Nombre
08 - Depeche Mode - Personal Jesus
09 - Divin Styler - Directix (Divine Remix)
10 - AFX - 000890569 (cd version)
11 - The Techniques - Please Say You Are Mine
12 - The Travellers - Black Black Mind
13 - Tosca - Joe Si Ha (Spirit Catcher Version)
14 - Junior Byles - The Long Way
15 - Burning Spear - Burning Dub


Bloody hell, bit of a hardcore opening from Mr Curtis... Want to see some more? well step inside... thankfully luck's on our side and we come out relatively unscathed and bopping along to some classic ska. Then just when you thought things were looking up some mashed up bad drugs hit the dubstep arena and things go all wonky again. Thank god for a bit of Lonny on an acid jazz tip to set things skew-wiff but on an altogether more positive vibe.

Our luck's in with The Heptones representing with the first of more than a few reggae selections. From old school roots to dancehall culture and an infectious conscious groove from Garnett Silk & Tony Rebel. Some glitch electronica up next with Savath y Savalas, a side project by Guillermo Scott Herren (perhaps best known as Prefuse 73). Then just when you thought this was all getting a bit too cool for school, the Mode reach out into the darker depths of my music collection. Fear not, Mo Wax saves the day with a typically apocalyptic hip hop cut and a suitably edgy intro into the world of Mr James' analogue bubblebaths.

Things are looking up, more reggae good vibes from The Techniques and The Travellers. Mr Dorfmeister, usually a purveyor of fine dubbed up downtempo beats, here provides a cheesy interlude before we get back to two roots legends with Junior Byles produced in superlative dub style by the one and only Lee 'Scratch' Perry. Far more mainstream, and a band that was never very good at quality control, The Spear wrap things up in with a bit of MOR reggae.

Hope you enjoyed the ride! until next time...
download (192kbps mp3) [87.8MB]
With thanks to the original artists for their music and inspiration.
Support them by buying their music.
Last Updated
01-02-11 [00:19:44]

by