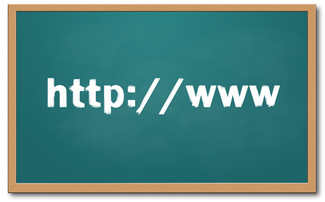 As a multimedia developer and instructional designer working primarily on distance learning courses, my role centres on the effective translation of face to face teaching for online delivery.
I work closely with lecturers and other subject matter experts to help them find engaging and innovative ways of presenting their teaching using a medium with which they are perhaps unfamiliar.
Through many years of experience I have developed a framework for the efficient transition of materials into e-learning courseware.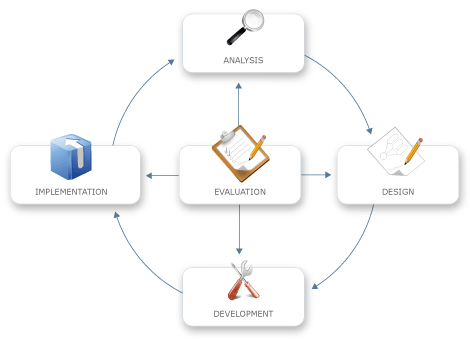 Loosely aligned with the ADDIE model of Instructional Design, the process follows a clear cycle of
needs analysis,
curriculum and course design,
multimedia development,
implementation and
evaluation.
I often find that materials created for web-based courses are later reused by lecturers and institutions in order to enrich existing face to face modules. This emergence of blended learning strategies into mainstream education is a great testament to the power of online activities to enrich the student experience. They allow learners to approach their learning from many different perspectives, as well as in their own time, and enhance the transfer of skills and knowledge by meeting the needs of students with different learning styles.
Requirements for a successful distance learning course
Strong structure, small modular units of learning
Clear goal setting
Frequent questioning
Practice exercise immediately after a new concept
Evaluation, feedback, corrective instruction
Great clarity about nature and scope of assessments and task
Precise and realistic delineation of time and effort requirements of each unit
consistency / uniformity across modules
In a distance learning setting, students have a much greater need for a strong framework providing them with a clear path through their learning. Short, chunked learning episodes are key to helping the learner pace their study. These also encourage and motivate the learner by allowing them to feel that they are steadily piecing together their knowledge of the subject.

Transition to a distance model
In keeping with these best practice requirements, the process of translating materials for online delivery involves the 'chunking' of traditional learning episodes, whether lectures or seminars, into units of learning that can be delivered in smaller more manageable chunks - both online or in a blended learning setting.
These units can take many forms, ranging from transmissive e-delivery (perhaps what would most commonly be thought of as typical 'learning objects') to collaborative peer-learning activities. Choosing which types of activities are most suitable; whether self-paced, self-guided online activities or interactive case studies, perhaps even software simulations and video SBLs, requires a thorough understanding of the knowledge domain to be taught.
To help capture the course content as a model that can easily be evaluated for chunking, I have developed a process of mapping the curriculum's learning objectives together with the path a learner travels through in order to arrive at clearly defined learning outcomes.