Mixtape 5
Wednesday 04 October 06 [10:43:00]
Baroque Dub Mixtape Five [Techdub + Dubstep]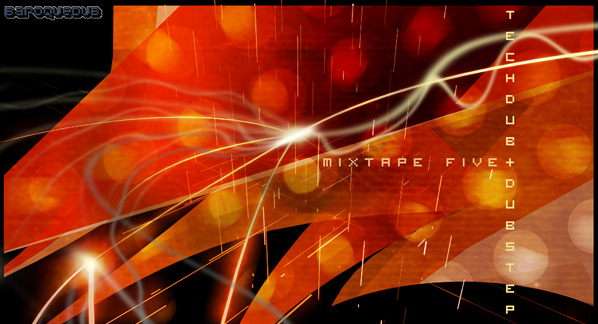 Every now and then I discover a new genre of music, a new clique... a new sound which re-awakens my love of music. Something which reminds me of the potential of sound to create an aural landscapes in which to dream and to lose oneself. When I hear it I'm like an addict - I buy and download everything I can find. I immerse myself in this new soundscape of possibilities... Both the grime influenced Dubstep and the germanic Techdub had that effect on me when I first heard them and so I felt it was probably time to pay homage to these two giants of the underground club scene.
I must admit to being a little worried that the programmed beats and the 'four to the floor' inflections might leave some of baroquedub's listeners cold... where's the eclecticism? where's the cross fertilisation of genres? Well sometimes I just like that Kraftwerk machine drilling into my subconscious. I've thrown in Tcha-k Federateur's live recording of Le Rythme just to offset all those heavily quantised machine generated rhythms but it's only for show: delve into those repetitive beats, listen to those shimmering sounds and learn from the subtlety of von Oswald & Ernestus's dubby techno.


download (192kbps mp3) [104 MB]

Tracklist:
[01] Various Production - Don't Ask
[02] Benga - Music Box
[03] Deepchord - Untitled [dc11 side B1]
[04] Basic Channel - Find A Way (featuring Tikiman) Vocal & Version
[05] Rhythm & Sound - Best Friend (Featuring Love Joy)
[06] Radikal Dub Kolectiv - Rajch(ice)snes Dub
[07] Sound Addicta - Atchakana Dub
[08] Tcha-k Federateur - Le Rythme
[09] Konrad Black - White Cigarettes
[10] Son.Sine - Upekah
[11] LOD - Esponja (Remix)
[12] Marko Fürstenberg - Contract [thn078]
[13] Akufen - Architecture
[14] Marko Fürstenberg - T-Shape [thn078]
[15] African Head Charge - Free Chant (Churchical Chant of the Nyabinghi)


With thanks to the original artists for their music and inspiration.
Support them by buying their music.
Last Updated
04-10-06 [11:21:55]

by