Mixtape 40
Wednesday 01 December 10 [12:32:47]
Baroque Dub Mixtape Fourty [bdmx0040] Massive!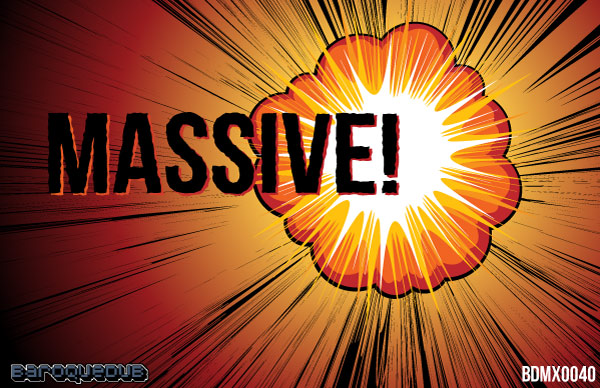 download (192kbps mp3) [100MB]
We kick things off with a suitably chilled out track from Polish tech-dub netlabel Qunabu. It's been a while since I've included this kind of electronic dub on one of the mixtapes. Then Army Of One pick up the pace with a wonderful reworking of Horace Andy's Every Tongue Shall Tell.

Next up is the first of many selections from the Africa Beat label - I'm just loving the bouncy good vibes of their dancehall releases! The screw dem riddim here appears as an instrumental by Dreadsquad followed up by Perfect's take.

Then we're back to more traditional baroquedub vibes with Nick Holder's upfront UK steppers anthem followed neatly by a dubstep-ish offering by Bdum Bdum Sound. Regular listeners will be well aware of my loss of faith in the dubstep scene, but this track's got all the bassbin defying, floor shaking, head nodding fun I used to like in the genre. Top work!
Legends of the sound system, Iration Steppas represent with a classic conscious lyrical outing. At a time when many are thinking about their New Year's resolutions, it's a timely reminder that dreads is an attitude not a fashion. Be it, live it - it ain't about what you look like but about who you are.

Perfect is up again with another riddim from Africa Beat, this one entitled Bad Boys 2009. I so wish I'd found this track a few months ago before my set at Shambala's Roots Yard - this one's made for blasting across fields of tents at a festival! :) Burro Banton jumps on the riddim without dropping a beat before switching to the Cherry Pie Riddim with No problem. This is dancehall as party music rather than gangster slackness. As it should be!

Junior Cony was a relatively recent discovery for me. I can't recommend his blend of upfront dance dynamics and big dubs enough! This one grooves and powers along before propelling us into Little John's floor pleaser. After what some purists might find a little too mainstream it's time to get back to some classic roots with Freddie McKay's timeless sermon and a perfect Johnny Osbourne double. You might say that they don't make 'em like that any more but the Mad Professor's mix of assorted Negus Roots backing tracks is a great example of the next generation taking on the reggae mantle and reinventing it in exemplary style.

I couldn't end this 40th anniversary selection without a nod back to the global perspective and world beats and breaks that have peppered previous compilations. What better example than Caliajah hip-hop/reggae crossover, or Djosos Krost's wonderfully funky MPC workout, followed by some chilled beats from Yonderboi?

We finish off with the ever prolific M. Ward whose She & Him duets with actress Zooey Deschanel, I'd particularly recommend to fans of 50s nostalgia. Here he wraps things up neatly with a nearly seasonal ditty. Here's to the next One Hundred Million Years...
[01] Experimenthal Dubbing Sessions - Broke Mi Nekk (00:00)
[02] Army Of One - Revelation Dub (06:08)
[03] Dreadsquad - Screw Dem (version) (11:23)
[04] Perfect - Reggae Music (13:11)
[05] Nick Holder - Moments in Dub (16:03)
[06] Bdum Bdum Sound – The 7 Solution (19:05)
[07] Iration Steppas feat. Tena Stelin - Locks (22:34)
[08] Perfect - 10 Pound of Ganja (27:14)
[09] Burro Banton - Nah Drop Di Ting (30:48)
[10] Burro Banton - No Problem (34:17)
[11] Junior Cony - Originally Dub Mix 1 (37:24)
[12] Little John - Block Traffic (41:47)
[13] Freddie McKay - I'm A Free Man (45:19)
[14] Johnny Osbourne - Truth And Rights (47:52)
[15] Johnny Osbourne - Black Starliner (vocal) (50:30)
[16] Negus Roots meets the Mad Professor - Wicked Skank (54:08)
[17] Caliajah - Es El Tiempo (feat. Breda Ghatto)(58:17)
[18] Djosos Krost - Cover Me (feat. Little Tasha) (61:42)
[19] Yonderboi - Tameless (64:34)
[20] M. Ward - One Hundred Million Years (70:51)

With thanks to the original artists for their music and inspiration.
Support them by buying their music.
Last Updated
01-12-10 [13:12:15]

by