Mixtape 35
Thursday 04 March 10 [13:40:06]
Baroque Dub Mixtape Thirty Five [bdmx0035] Soundsystem Goodness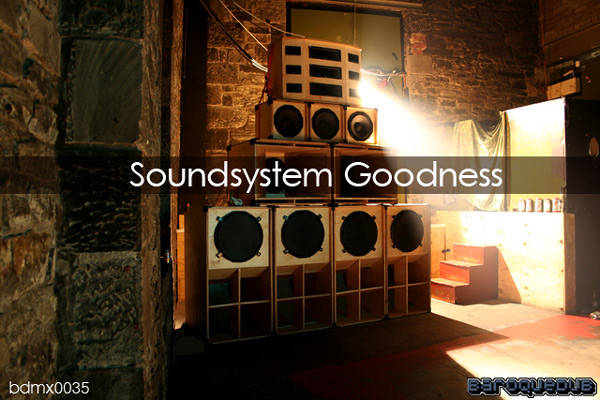 Image source: the very wonderful Rootikal soundsystem
download (192kbps mp3) [84.5MB]
Singer Blue & The Dubateers kick off an hour long mix full of soundsystem goodness, with the Atiko Minus Project from Greece and Energy Crew, from France, both doing a great impersonation of the UK Dub sound. On to more of a Jamaican dancehall vibe with Papa San, Super Cat and Eek-A-Mouse representing - but not forgetting a slight detour to Trinidad (via Toronto) courtesy of Kobo Town's exquisite take on traditional calypso rhythms.

A personal favourite, Disrupt's 8bit reggae brings the proceedings back up to date before we launch into Gü-Mix's jump-up, club-friendly sound (more of which later...) Dubmatix take things straight back to the roots with reggae veteran Alton Ellis guesting on vocals then Waldeck gets us back to the dancefloor with a wonderfully wonky conscious techno stomper that would make Rhythm & Sound proud. Next up is the highly recommended glitch-hop dub of Automaton followed by Dub Li Cut's sub-heavy junglist/breaks mash-up.

Rodney Hunter is the third Viennese-school producer on this mix (Gü-Mix and Waldeck also both come from the city that gave us Kruder & Dorfmeister) Featuring stalwart Paul St. Hilaire, this Dub Club classic is an anthem worthy of this hallowed club (started by none other than GŁ-Mix way back in 1995).

Having travelled from underground soundsystem to the mainstream of club culture, it's time to wind up the proceedings with the Clancy Eccles All Stars literally taking us back to the root of it all; Kingston Town.

Turn up the bass and enjoy the ride.
[01] Singer Blue & The Dubateers - Never Stop Praise Jah Jah (00:00)
[02] Atiko Minus Project - The Warriors Are Moving Version (03:29)
[03] Energy Crew ft. Genese - Judgement Day (07:02)
[04] Energy Crew - Dub Vibration (Judgement Day with Rico) (10:20)
[05] Papa San - Stay Far (13:36)
[06] Kobo Town - Abatina (17:02)
[07] Super Cat - Oh It's You (21:49)
[08] Eek-A-Mouse - Rude Boy Jamaican (25:14)
[09] Disrupt - Second Hand Dub (29:03)
[10] GŁ-Mix - Get Up Man (31:46)
[11] Dubmatix ft. Alton Ellis - Blessing of Compassion (37:14)
[12] Waldeck - Love Dub (41:40)
[13] Automaton - Digidub (Linton Kwesi Johnson Mix) (46:02)
[14] Dub Li Cut - Konzerto (51:09)
[15] Rodney Hunter ft. Paul St. Hilaire - Vampire (55:00)
[16] Clancy Eccles All Stars - Kingston Town (58:44)

With thanks to the original artists for their music and inspiration.
Support them by buying their music.
Last Updated
04-03-10 [14:11:22]

by