Mixtape 33
Thursday 26 November 09 [21:58:46]
Baroque Dub Mixtape Thirty Three [bdmx0033] Maverick Renegade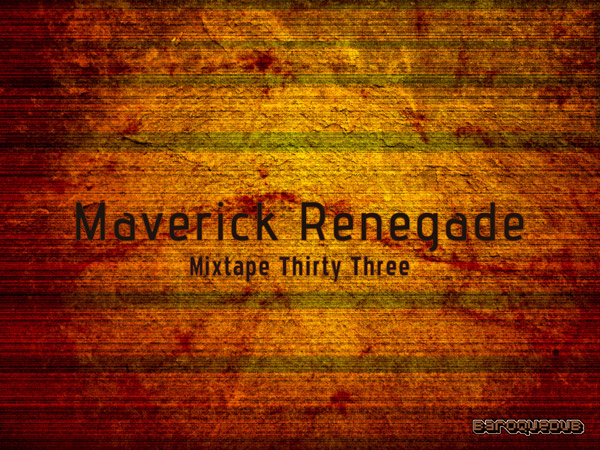 download (192kbps mp3) [137MB]
Get ready, get set for another bumper pack selection of the usual baroquedub eclecticism.
We start off with a pair of uptempo Benny Page mixes designed to get you in the mood before halving the tempo into Oluge's Istanbul Yard. Chilled after the initial beats frenzy, but this mix isn't one for lying down and taking it easy - Roots Manuva Scruff's it up with a touch of electro ragga and the hip-hop pedigree continues with a Rae & Christian excursion into Faze Action reggae vibes. Little Jay and Rob the Viking step up with more down-the-line phat beats before Soha broadens our horizons with a heady mix of classic jazz vocals, Cap Verde reggae and Cuban rhumba.
Old punks will delight in Ari Up's recent return with a new album. Here The Slits' vocalist comes head-to-head with X.A. Cute in dark and dangerous mix with an unsurprisingly uncompromising lyrical turn. Scientist provides some much needed respite with a typically genius dub before Loopa Scava goes off to meet Cayetano, dancing to an intricate tango as the rains come, again. Now we're off on a whirlwind world adventure with Kokolo's Congo Bongo latino/afro-beat before heading back to more familiar Jamaican territory with Lightning Head (aka Bigga Bush From Rockers Hi-fi) featuring the vocal talents of Singing Bird. Then it's pure tribal dub of the highest calibre from Terrestre before Wareika Hill Sounds' reworking of Tony Allen takes things into truly psychedelic space. Irie!
Funkstörung (r.i.p!) on a surprise pop tip segues nicely into an inspired cut-up of the classic easy-listening gem 'Sway' - an effortless balance of the mainstream and experimental that Basemann Jaxx have been pulling off to great success for most of their career.
Shout out to the ever prolific Version Big-Fi whose releases are never short of pure quality. Here they represent courtesy of Papa Grey's perfect and timeless upfront dub. We're nearly home and dry; Uptown Selector's taking the sidewalk to more exotic places via Bajofondo's nuevo-Argentina and finally, take a flight of fancy with the cross-cultural glory of Don Cherry and Latif Khan's Air Mail (thanks to the b-side of Chin Chin's recent reworking).
Tracklist:
[01] Benny Page - Can't Test (00:00)
[02] Kenny Ken - Everyman (Benny Page remix) (05:21)
[03] Oluge - Istanbul Yard (10:17)
[04] Mr Scruff - Nice Up The Function (feat. Roots Manuva)(14:12)
[05] Rae & Christian - Hold Us Down feat. The Congos (Faze Action reggae remix) (17:45)
[06] Little Jay - Night (21:57)
[07] Rob The Viking - Go For Mine (27:47)
[08] Soha - Serre Moi Fort Si Tu M'Aimes (32:22)
[09] Ari Up vs X. A. Cute - Me Done (34:43)
[10] Scientist - The Man Never Immetiate Always Orriginate (39:45)
[11] Loopa Scava meets Cayetano - The Rain Comes Again (42:18)
[12] Kokolo - Congo Bongo (47:37)
[13] Lightning Head - Me And Me Princess (Vocal) (51:16)
[14] Terrestre - Secondary Inspection Theme (54:36)
[15] Tony Allen - Ise Nia (Reggae Land Dub) (A rework by Wareika Hill Sounds) (61:14)
[16] Funkstörung - I Want Some Fun (66:26)
[17] The Rip-Off Artist feat. Dean Martin and Julie London - Sway (Remix) (71:05)
[18] Basemann Jaxx - Gimme Somethin True (feat. Jose James) (75:46)
[19] Papa Grey - The Perfect Crime Dub [Version Big-Fi DUBTREC-012] (80:27)
[20] Uptown Selector - Sidewalk Dub (83:29)
[21] Bajofondo - Pa'Bailar-Bailarin En El Tren (88:37)
[22] Don Cherry and Latif Khan - Air Mail (92:34)

With thanks to the original artists for their music and inspiration.
Support them by buying their music.
Last Updated
26-11-09 [22:42:20]

by