Mixtape 32
Saturday 12 September 09 [16:41:00]
Baroque Dub Mixtape Thirty Two [bdmx0032] The Road Less Travelled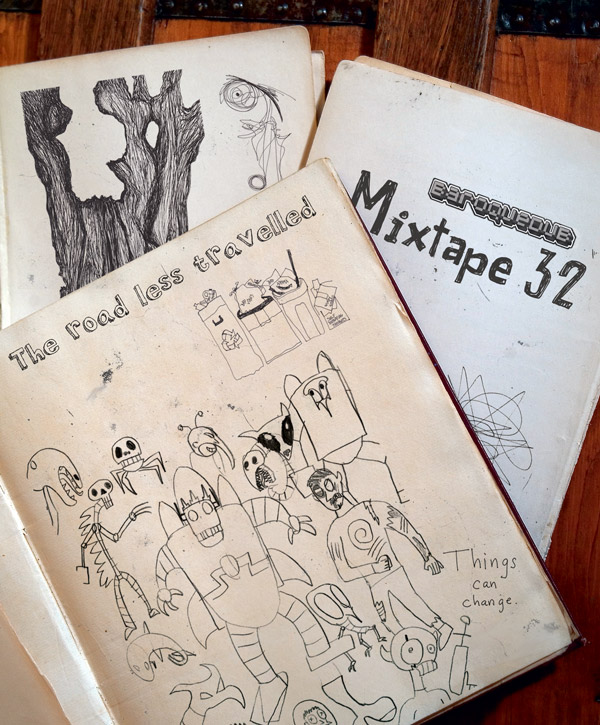 download (192kbps mp3) [103MB]
Back with a hatful of tricks after a long summer sabbatical. Inspired by festivals in Cuba and the UK, and following a request from Nuno Madaleno for a return to the global journey that was Mixtape 13, you'll find this latest installment to be quite a ride!

After the usual slow burning start, we turn up the heat with Brent Lewis' unique world beat before Peverist takes on the polyrhythmic challenge with a track that builds from IDM electronica to techdub anthem. By the time Sebbo's Watamu Beach kick in, the party's in full swing. We travel effortlessly from its tribal 4-to-the-floor to a glorious steppers rhythm from Polish (?) artist Kaunas and then take time to draw a breath for a choice dub of Burning Spear's Fittest of the Fittest.

Next up's a Russian fusion of reggae and rhumba (don't get fooled by the French and Portuguese vocals!) with the Green Point Orchestra's lament to a lost love that explores the meaning of the untranslatable Brazilian word 'soldade'. Time for some guidance to the promised land from the classic roots of The African Brothers with Sugar Minott on vocals and a fat dub courtesy of who else but King Tubby.

Rainbow Arabia, despite the name and the lyrics of this song represent from Echo Park, California. They're a great example of the kind of musical melting pot currently being fed by a younger generation of US kids like Vampire Weekend - teenagers who've obviously raided their parent's record collection and fallen in love with Paul Simon's Graceland. Best of all they're making it their own and having a ball. Then the tempo rises but the grooves slows to a sensuous grind with Bits & Pieces' Don't Stop The Music - a reggae funk workout with echoes of Bob Marley's Exodus and a great wiggout saxophone outro.

Now's your chance to get off if you're not in it for the long haul - Latinsizer's electro workout starts off innocently enough with a melodic ambience that would have made Drexciya proud. Before you know it the sparks are flying and electricity's in the air - a perfect occasion for Circuits' post-punk reggae skank to take over.

All of which segues neatly into a more laid back indie-ska number from The King Blues. Definitely time for a break in the chill out lounge with (according to their website) friends from Stockholm, Newcastle, San Francisco and Germany who all go under the name of Club des Belugas.

From Bristol via Scandinavia and fresh from a storming live set at the Shambala festival (thanks Chris, John and Dan - the 10th was the best so far!) come Lund. A Jazz quartet unafraid to experiment with turntables and theramins they come highly recommended - and criminally unsigned so you'll have to catch them live wherever you can... finally, a three note motif that reminded me of the Blade Runner soundtrack provides an excuse to drift off into a warm analogue sunset. Enjoy the ride!
Tracklist:
[01] Syncom Data - Beyond the Stars (SD Mix) (00:00)
[02] Brent Lewis - High Humidity (05:12)
[03] Peverelist - The Grid (09:32)
[04] Sebbo - Watamu beach (15:08)
[05] Kaunas - Policeman (19:31)
[06] The Soul Syndicate - Fittest of the Dub (25:12)
[07] Nalepa - 4th of July (RND Remix) (27:56)
[08] The Green Point Orchestra - T... (33:18)
[09] African Brothers - Father Lead Us (edit) (40:32)
[10] African Brothers - Lead Us Dub (41:54)
[11] Rainbow Arabia - Harlem Sunrise (44:09)
[12] Bits & Pieces - Don't Stop The Music (47:24)
[13] Latinsizer - Dr Punkie (53:31)
[14] Circuits - Pistols at Dawn (57:20)
[15] The King Blues - Chimp in a 3 Piece Suit (60:33)
[16] Club des Belugas - Quatres Pieces Collées (Part 2) (62:46)
[17] Lund - Unknown (67:58)
[18] Vangelis - Fading Away (72:07)

With thanks to the original artists for their music and inspiration.
Support them by buying their music.
Last Updated
12-09-09 [16:57:59]

by