Mixtape 29
Wednesday 01 April 09 [12:26:49]
Baroque Dub Mixtape Twenty Nine [bdmx0029] Beats Breaks Bass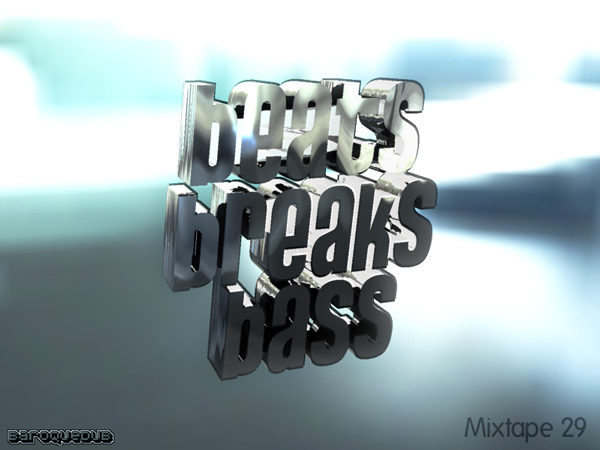 download (192kbps mp3) [106MB]

There's more than a few surprises on this latest collection of bass-driven selections. Watch the ride - the journey starts with Deepfried Dub on a slightly misleading drum'n'bass orientated tone before Pilah (Dub Addict Sound System) half-times the tempo with Learoy Green's musings on the trials and difficulties of life. An early Black Uhuru chant continues the conscious vibes before a dubstep remix of dubious provenance (Collie Buddz remixed by Goodfellaz?) brings things up to date in the form of a phat slice of prime black vinyl. Dub Li Cut follows up with a new take on a classic riddim which leads neatly into the Dub Syndicate's history lesson. Junkyard represent with a jump-up two parter that sets the scene nicely for the Champion Sound of Dubmatix - one of my favourite tracks at the moment, with a wonderful production which effortlessly mixes a reggae soundsystem sensibility with big beat electronica.
We're well and truly in the world of downtempo lounge by the time we hit Roudoudou's hymn to peace and love. Radar throws in a sprinkling of world music then the Thievery Corporation proves once again why they're such masters of this style of modern, outernational reggae-influenced dance music. The original mix of Big Bud's Runaway is more rootsy than many of his usual uptempo productions (something he should do a lot more of imho!) and things continue to chill out nicely with Jambassa's wonderful contribution to the italian dub community (check out the previous two installments for a taste of some Sardinian techdub).
Neil Sparkes, once of Transglobal Underground, has done much of his best work with the Last Tribe. In recent years he's been travelling Africa recording musicians and returning to his studio to brew up ecletic dub infusions like Afrodisia. A surprisingly uptempo, dare I say it, middle of the road breakbeat number from Múm leads into le Peuple de L'Herbe's Dopebeats. By now the party's reached it's peak and it's time to send everyone home with a reminder of what we're celebrating in the first place - the wonderful healing power of the drums and the bass, as demonstrated perfectly by Linval Thompson's seminal Roots Man Dub.
Tracklist:
[01] Deepfried Dub - Submerged (00:00)
[02] Pilah feat. L.Green (Dub Addict) - Conscious Man (04:54)
[03] Black Sounds Uhro (Black Uhuru) - I Love King Selassie (08:38)
[04] Roguestar or Goodfellaz or Collie Buddz (?!) - Come Around (dubstep remix) (13:03)
[05] Mat Kelly - Equator-x (excerpt) (16:39)
[06] Dub Li Cut - Dreadix (17:17)
[07] Dub Syndicate - Kingston 14 (20:07)
[08] Junkyard Productions - Sister Let Him Go (24:13)
[09] Dubmatix - Champion Sound (30:51)
[10] Roudoudou - Peace Dub and Tranquility (34:56)
[11] Radar - Ya Rayah (40:15)
[12] Thievery Corporation - Warning Shots (44:04)
[13] Big Bud - Runaway (original mix) (47:43)
[14] Dubital - Banana Republic (52:40)
[15] Jambassa - Shining Dub (57:00)
[16] Neil Sparkes and the Last Tribe - Afrodisia (61:47)
[17] Múm - Ad Lie (66:33)
[18] Le Peuple de L'Herbe - Dopebeats (70:55)
[19] Linval Thompson - Roots Man Dub (75:05)

With thanks to the original artists for their music and inspiration.
Support them by buying their music.
Last Updated
01-04-09 [13:07:56]

by