Mixtape 22
Sunday 04 May 08 [13:54:36]
Baroque Dub Mixtape Twenty Two [bdmx0022] Silver Linings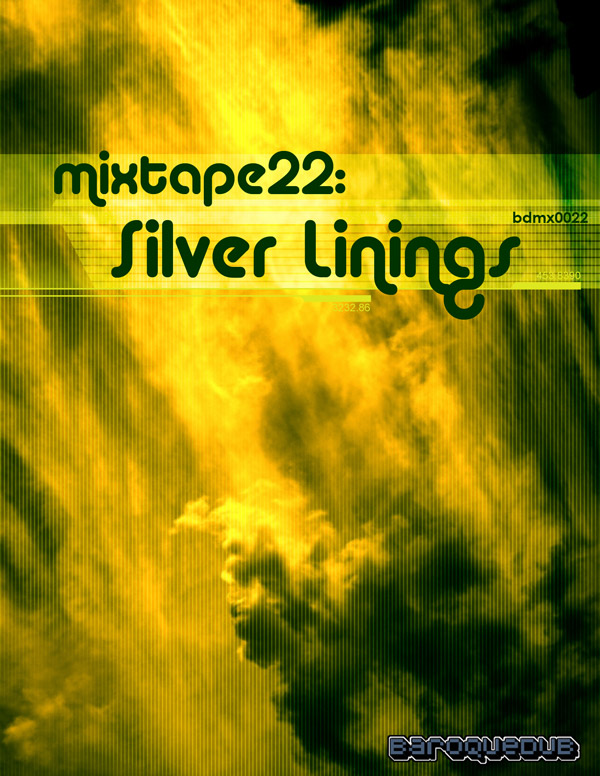 download (192kbps mp3) [92.3MB]
This happy-go-lucky collection starts on a slow burn with Burnt Friedman's inimitable filtered reggae-funk before taking off courtesy of Noiseshapper and Dreadzone, both stalwarts of the live dub scene at festivals across europe and beyond. Big up to Yabass who stands proudly amongst such greats with a huge production which he's made freely available on the excellent community website at reggaeDubwise. Much respect to this veteran of the reggae scene for the good vibes he helps to promote.

Hervé Salters, sometime Quannum Collective collaborator, just missed out on last month's hip-hop special. Here he represents with a great, quirky General Electriks track. Just can't get enough of Rhythm & Sound, whether their vocal version reworkings or, as here, with their clean minimal techno instrumentals. Gare Du Nord provides a nice bluesy interlude before a couple of great digidub offerings from Stefan Obermaier and David Last. Yet more Burnt Friedman, this time in the guise of Flanger, an electronic jazz project with Uwe Schmidt who some might know better as Señor Coconut. After the slightly disappointing re-release of Air's Moon Safari (so-so extra CD, great video documentary), here Rob's Musique Pour Un Enfant Jouet outdoes Godin & Dunckel at their own game, providing plenty of [A]mour, [I]magination and [R]êve. The things you learn on discogs.com...

Early Chemical Brothers circa 1994, off the Fourteenth Century Sky EP, before threatened legal action forced them to change their name. Cue exit planet dust. Time for some disco-electro fun courtesy of Jona Lewie followed up by an intelligent dancefloor filler from ZFO. We head home with Eels' anti-hero anthem. Enjoy the ride.
Tracklist:
[01] Burnt Friedman - Platin Tundra (00:00)
[02] Noiseshaper - Bushmaster (Kid Kenobi Session RMX feat. MC Shureshock) (05:03)
[03] Dreadzone - Once Upon A Time (In Jamaica) (10:30)
[04] Yabass - WaLLs oF BaBylOn (15:46)
[05] General Electriks - Facing That Void (feat. Maroons) (21:17)
[06] Rhythm & Sound - Mango Drive (24:19)
[07] Gare Du Nord - Pablo's Blues (Full Version) (31:05)
[08] Stefan Obermaier - Inna Fat Dub Combo (35:40)
[09] David Last - Cat-Silver (40:03)
[10] Flanger - Bosco's Disposable Driver (44:34)
[11] Rob - Musique Pour Un Enfant Jouet (47:19)
[12] Dust Brothers - One Too many Mornings (50:31)
[13] Jona Lewie - You'll Always Find Me In The Kitchen At Parties (54:11)
[14] ZFO - P. Funk I & II (57:02)
[15] Eels - Love of the Loveless (63:37)


With thanks to the original artists for their music and inspiration.
Support them by buying their music.
Last Updated
04-05-08 [15:49:37]

by