Mixtape 21
Monday 14 April 08 [19:49:37]
Baroque Dub Mixtape Twenty One [bdmx0021] Beats, Breaks and Rhymes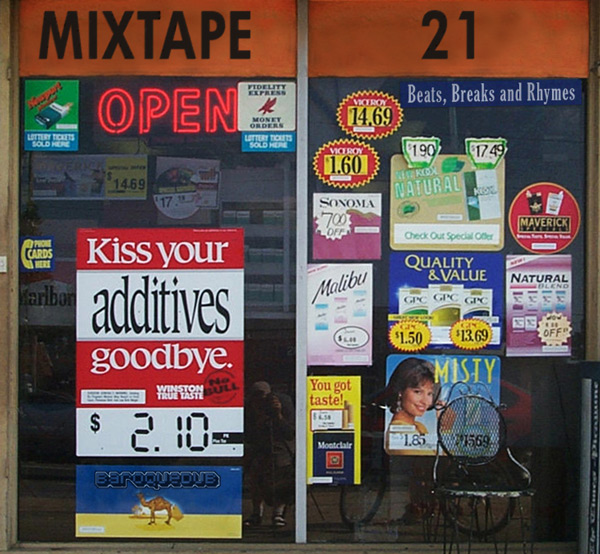 download (192kbps mp3) [114MB]
A hip-hop orientated mixtapes's been a long time coming and what better time then as we come of age and turn 21? For the uninitiated, there's nothing to fear; Bill Laswell and the Black Roots start you off on familiar roots territory before DJ Krush breaks out the beats in the most chilled out way possible. First off Prince Paul & Dan The Automator, each legendary in their own right, come together to remind the hip-hop fraternity that the genre can be used to talk intelligently about issues that matter more than women and bling. Next up two cuts from NTM, defunct superstars of the French scene, just to prove that not only do you not have to be American to make great hip-hop, but you can blend in influences as diverse as classical music and reggae toasting. Time now for the greats; Gang Starr and EPMD, the rhymes flowing like poetry followed by backroom genius Tommy Guerrero. The Quannum collective represents in full effect before Jedi Mind Tricks fly the flag for the young contenders. DAC's niga is as close to gansta rap as I get and if you've made it this far then you're probably ready for a reggae/beats mashup as exemplified by the Sofa Surfers, here featuring DJ Collage. Clean breaks from IV My People (more french hip-hop with Kool Shen making the NTM connection) then into electro/pop territory with Fujiya & Miyagi - a sign of just how far hip-hop culture has spread. The Roots' huge The Seed is an absolute classic of the genre, but it's not over yet... The Flirts from '82 predates Herbie Hancock's rockit by a year and (however cheesy) must have been a big electro influence with its HiNRG synth-pop. We finish off with yet another good use for a breakbeat: the funky psychedlic workout. Turn on, tune in, drop out. As far as hip-hop beats and breaks are concerned everything is allowed, everything is permitted.
Tracklist:
[01] Bill Laswell meets Style Scott - Crooklyn Dub Collective (00:00)
[02] Black Roots - Kool Con (07:43)
[03] DJ Krush - Mu-Getsu (10:51)
[04] Handsome Boy Modeling School - The World's Gone Mad (17:11)
[05] SuprÍme NTM - That's My people (22:24)
[06] SuprÍme NTM - Ma Benz (26:05)
[07] Gang Starr - The Militia (Feat. Big Shug And Freddie Foxxx) (29:53)
[08] EPMD - Strictly Business (34:32)
[09] Tommy Guerrero - War No More (40:46)
[10] Lyrics Born & The Poets Of Rhythm - I Changed My Mind (44:09)
[11] Jedi Mind Tricks - Raw Is War (48:41)
[12] DAC - Niga (51:33)
[13] Sofa Surfers - Babylon Tymes (feat. DJ Collage) (54:15)
[14] IV My People - Bom Bye Zee (58:52)
[15] Fujiya & Miyagi - Collarbone (61:32)
[16] The Roots - The Seed (2.0) feat. Cody Chesnutt (65:28)
[17] The Flirts - Passion (69:50)
[18] Chris Joss - You've Been Spiked (78:04)


With thanks to the original artists for their music and inspiration.
Support them by buying their music.
Last Updated
15-04-08 [09:38:32]

by