Mixtape 17
Thursday 06 December 07 [10:20:47]
Baroque Dub Mixtape Seventeen [bdmx0017] party frocs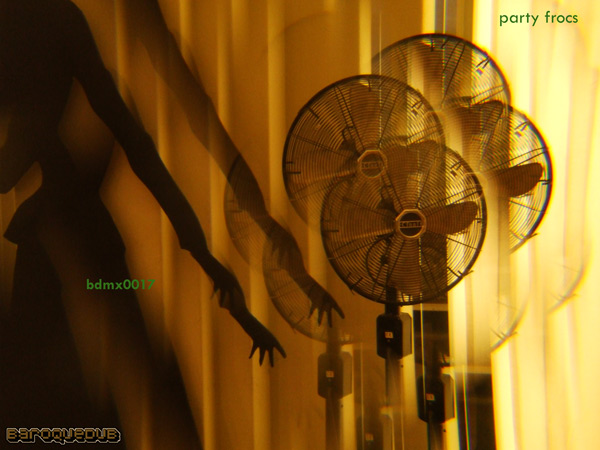 download (192kbps mp3) [103MB]
Time for more of a jump-up good time after the last instalment's dark infused beats. A surprising hands-in-the-air remix of Múm's sublime experimental electronica gets the party started followed by two takes on Moroder's classic 'I feel Love' dance groove. The dub house disco continues all the way to Norman Cook's Mighty Dub Katz project before we get back to more familiar baroquedub territory with Closer's beats and breaks musings and Dry & Heavy's upfront dub explorations. What follows is a classic roots reggae chill-out - time to relax after all that partying, time to reflect with some serious conscious lyrics. Then sneak in a little xmas party smooching with Marcia Griffiths before heading home through moon-lit streets with Alex Kid and friends. Home by 3am, hopefully happy, content and ready for sleep.
Tracklist:
[01] Múm - Boychild (Dublex Inc. Remix) (00:00)
[02] Train - Satisfaction (with Goldfrapp acappella) (07:34)
[03] Donna Summer - I Feel Love (12:19)
[04] Two Shiny Heads - Dub House Disco (15:10)
[05] House Lovers - Congo (20:25)
[06] Mighty Dub Katz - Magic Carpet ride (23:14)
[07] Colder - Shiny Star (28:19)
[08] King Jammy meets Dry & Heavy - Harmony Dub (33:01)
[09] Wailing Souls - Kingdom Rise Kingdom Fall (36:58)
[10] Leroy Smart - We Want To Go Home (40:58)
[11] Keith Hudson meets King Tubby - Satia (43:52)
[12] Cedric IM Brooks - Free Up Black Man (46:51)
[13] Yabby U - Beware Of God (50:35)
[14] Marcia Griffiths - The First Time I Ever Saw Your Face (53:39)
[15] Alex Kid - Luna (Full Moon Remix) (57:31)
[16] Four Tet - Unspoken (62:24)
[17] Voice of the Seven Woods - 3am, Home (72:07)


With thanks to the original artists for their music and inspiration.
Support them by buying their music.
Last Updated
06-12-07 [10:21:49]

by