Mixtape 13
Sunday 01 July 07 [00:47:55]
Baroque Dub Mixtape Thirteen [bdmx0013] Strange Journey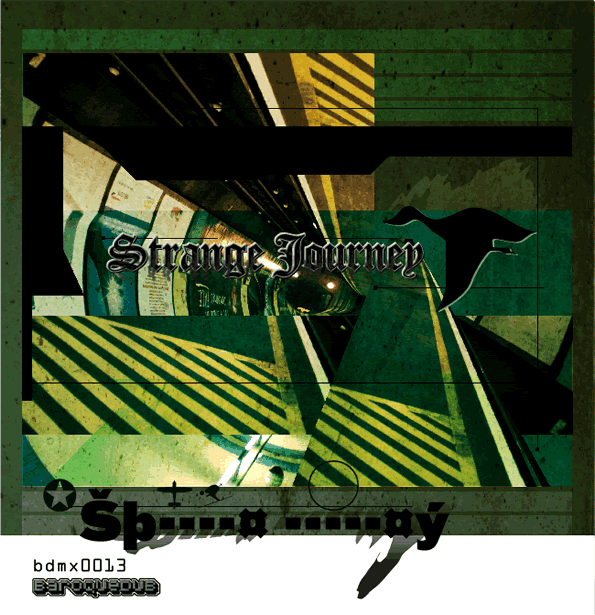 download (192kbps mp3) [101MB]
Unlucky for some, this 13th instalment in the baroquedub mixtape series is a very special journey through global sounds and timeless grooves. Kicking off with one of Natacha Atlas' better solo projects since leaving TransGlobal Underground. The pace soon picks up with 'Le Rythme de la Parole', an incredible meeting of Malian and Sufi musicians displaying the kind of intricate, syncopated drumming which would put many a drum'n'bass producer to shame. We stay in Mali to highlight the late Ali Farka Toure's incredible take on the blues before moving on to both old and new interpretations of this classic African trance-groove. Then it's off to the Americas via Cuba (Orishas), Columbia (Aterciopelados), Brazil (Bebeto) and New Mexico (Calexico) before stopping off in the states to name check Fried Wire - one of the best new dub producers I've come across in a long while. From here onwards the reggae skank takes over, starting with a classic Bush Chemists mix we soon leave the UK and head south to Marseilles in France where both North African and Jamaican influences weigh heavily on Moussu T's infectious little ditty. A quick jump across the Mediterranean and Orchestra Baobab's mix of reggae, afro-cuban and funk elements reminds us that the riddim has its roots in the very soul of Africa, a pulse of life which left its mark to the east in India and wherever else our ancestors settled. How could I miss out Manu Chao? A truly gifted musical troubadour who relishes the sonic wonders of the world. Then the comedown after all our travels comes courtesy of the Magnolia Electric Co. before the ever-so cheesy Braziliera of Tribalistas' Velha Infancia acts as that 7inch single you bring home from your holidays as a reminder of the sun, the sea and the disco bar. Go explore.
Tracklist:
[01] The Natacha Atlas & Marc Eagleton Project - Etheric Messages (00:00)
[02] Le Rythme de la Parole II - Terik'e - L'instant Présent (05:20)
[03] Ali Farka Toure - Heygana (13:33)
[04] Afel Bocoum - Alasidi (19:20)
[05] Julien Jacob - Kalicom (23:46)
[06] Orishas - Orishas Llegó (27:18)
[07] Aterciopelados - El Estuche (31:03)
[08] Bebeto - morte da sandalia de couro (34:06)
[09] Calexico - Dub Latina (37:11)
[10] Fried Wire - Rolling Stone Dub Intro (39:20)
[11] Bush Chemists - Four Wise Men (41:50)
[12] Moussu T e lei jovents - Lo gabian (45:07)
[13] Orchestra Baobab - Mouhamadou Bamba (48:11)
[14] Nusrat Fateh Ali Khan - Mustt Mustt (Massive Attack Remix) (54:38)
[15] Radio Zumbido - El Hampa (58:22)
[16] Manu Chao - Mi Vida (59:40)
[17] Pilah (Dub Addict) - Pile-Up Dub (61:25)
[18] Magnolia Electric Co. - Hard to love a man (65:53)
[19] Tribalistas - Velha Infancia (feat. Marisa Monte) (70:02)


With thanks to the original artists for their music and inspiration.
Support them by buying their music.
Last Updated
01-07-07 [00:52:53]

by