E-Learning
E-Learning is often thought of as a dystopian vision of students 'plugged' into computer terminals, left to stare at a screen in order to learn. The truth is that e-learning materials are just tools that facilitate better learning and teaching. Not all e-learning happens at a computer. Blended teaching methods encourage learning episodes that are not exclusively computer-based and current technologies can support and even encourage collaborative peer learning. In this brave new world, online forums replace sterile click-through activities and student interaction doesn't just mean solving a puzzle by dragging and dropping a few graphics on the screen. Instead, carefully thought out instructional design can encourage learners to truly engage with their materials, and to more fully own the learning process.
The role of a learning technologist is simply to help tutors do more effectively what they have always done - teach. Although this site is full of examples of multimedia development, the best e-learning is based on designing the right task to help students grasp the required knowledge. The discussions that happen between learners in an activity forum is not a learning object that can easily be demoed in an online portfolio but it's most often where the real learning takes place.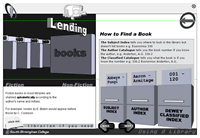 The bottom line is that e-learning is all about pedagogy - organising the content to fit with the desired pedagogical perspective and finding the right medium for the materials.
I have a passion for finding the right technologies to articulate and bring to life a subject in a way which is meaningful and engaging to students and tutors alike. I am also particularly interested in the use of adaptive software - tracking a student's progress through a learning object to mirror the differentiation which any good teacher naturally makes use of in their day to day teaching practice.
IT has undoubtedly become the new literacy and the use of the right technology should not only bring the subject matter to life but also empower a student to succeed by teaching them transferable computer skills.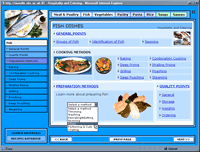 Issues of access are crucial in education and I strongly believe that accessibility should actually be considered as a subset of usability. The practice of 'inclusive design' which attempts to create products, services and environments that are as "usable as possible by as many people as possible regardless of age, ability or situation" and the use of standards to insure cross-platform, cross-browser compatibility are at the heart of all of my development work.
Tutors often have a need to customise or personalise learning materials to fit in with their teaching. Additionally, 'closed' and monolithic learning objects are particularly at risk of obsolescence due to changing curriculum. I am particularly proud of the more complex technical work I have done which allows for the disaggregation, re-use and re-purposing of materials. Additionally, I have carried out research and had extensive practical experience in the fields of SCORM and IMS content packaging, Learning Design, metadata and the use of VLE's and repositories. Please contact me if you would like more information on that area of my work.
The examples below are intended to articulate some of the issues I have outlined above. Other examples of my work in the education sector, particularly the use of web applications to empower tutors and mediate information to students are to found in the html/css and php/mysql sections of this portfolio.
Examples
NZ Open Educational Resources [NZIM 801 Employment Relations]
My work at the Open Polytechnic of New Zealand on the NZ-OER project represents a culmination of many of the design and e-learning strategies I have developed over the years. The Open Educational Resources model closely follows JISC/X4L and Jorum's objective of enabling the sharing of easily disaggregatable, media rich, accessible and engaging learning objects but its focus is on courseware rather than single media elements. The task was made all the more challenging as, with tight deadlines, it was crucial to rationalise build processes without sacrificing quality.
With a strong emphasis on instructional design, we worked hard at expanding the usual focus on individual learning objects by creating a model which allows entire courses, not just individual multimedia elements, to be repurposeable and re-useable. This required careful juggling of course activities during the course mapping process and an attention to detail (removing unnecessary cross-referencing, for example) when writing the scripts. This allows learning episodes (the lowest level of course granularity) to operate both as part of the course but also as single units of instruction which can be altered and incorporated into other courses.
The NZ-OER project covers many subject areas but the Employment Relations 801 module for the New Zealand Institute of Management (NZIM) certificate in management provides a good overview of some of the design issues we faced and resolved.
[view course maps]
[view Moodle course page]
[view office environment]
[view video activity]
ESOL Video Comprehension Exercise
Developed with Chris Watts of South Birmingham College's Basic Skills and ESOL department this demo illustrates the use of streaming video alongside a comprehension quiz. It was used as a development prototype and released with additional video exercises and question sets as a commercial CD-ROM.
This learning object was created in flash using a modular template design and can easily be modified for other courses. Rather than being authored as a single, monolithic flash movie the content package consists of a single shell/interface which loads the necessary assets and resources such as individual video clips and text files (for the quiz). This development method enables the easy re-purposing of the learning object and enables tutors to tailor the materials to their students' needs. It also allows for the efficient and cost-effective production of multiple objects.
Foundation Studies Wallpapering Video
Created for South Birmingham College's Foundation Studies department these materials make use of video clips to help students learn about the various techniques involved in wall-papering a wall.
The video materials are chunked into sections which allow students to stop and replay any section which they find difficult to understand. Additional supporting information is also provided alongside the video and a voice-over commentary could easily be added.
This method of delivery is especially useful for revision purposes. Tutors only have to carry out the demonstration in front of their students once while the students benefit from being able to revisit the materials at any time. ICT is particularly useful for this ability to 'pause' and 'replay' difficult sections of a lecture or demonstration.
This use of video for tuition is a perfect example of the role which flash streaming technology can play to enrich the teaching and learning experience.
[view learning object] Note that this is hosted on South Birmingham College's own server.
Catering Videos (Poultry Preparation)
Developed with Mike Gilbert of South Birmingham College's Hospitality and Catering department these materials form part of the JISC funded X4L The Learning Bank project. Five video learning objects were produced covering various poultry preparation methods: 'Cuts for Suprême', 'Cuts for Sauté', 'Craupadine', 'Cuts for Grilling' and 'Trussing'. These vary from 5 to 20 minutes in length.
Filmed on DV using a 3 camera set-up in order to best display the techniques used by the chef, the footage was later edited in Sony Vegas and prepared for web streaming using Sorenson Squeeze. Flash-authored, the interface makes use of external xml and video files as assets loaded at runtime to dynamically generate navigation buttons, supporting text and captions. This not only allows a tutor to update the materials themselves but also enables content developers to deploy further video objects simply by replacing the external video files. In this way video demonstrations of other subject matter can easily and quickly be prepared for web delivery simply by filming additional materials.
This modular design was recognised as being so efficient that it led to further funding from the JISC and gave rise to the development of the Video Shell - a fully integrated video learning object maker.

SBC Online Student Induction
This flash-authored student induction pack was designed to impart important information to students in the most engaging way possible. Stylistically the online induction presents a lot of text-heavy content in a chunked, student-friendly format.
The interface makes use of large, easy to click buttons to help students who may have limited IT skills. Other accessibility features include the ability to tab through pages using the 'PageUp', 'PageDown', Left and Right arrow keys.
The flash movie tracks a user's progress through the information and will only allow the student contract to be printed on completion of a simple self-assessment quiz. A clear induction checklist is also dynamically generated to help the student navigate to the relevant sections before attempting the quiz.
X4L Library Studies
An immersive flash environment designed to help students learn about libraries. By exploring the engaging 3D virtual environment users are introduced to library studies skills such as 'using the reference section' and 'how to find a book'
The Library Module's visual design was specifically chosen to engage students by referencing the visual style of computer games. A helper character (avatar) is also employed in an attempt to make the subject more appealing and student-friendly.
The learning object tracks a student's path through the materials and suggests various self-assessment quizzes at relevant stages during their progress.
X4L Video Shell
Created with funding from the JISC X4L The Learning Bank phase2 project the 'Video Shell' is an online tool which allows tutors and content developers to create learning objects comprising of video assets, supporting text and graphics. Various editors allow for the customisation of the basic template as well as the creation of captions and buttons to help students navigate longer video clips.
An example of the powerful use of flash remoting, the application uses PHP and a MySQL back-end to enable multi-user, multi-session functionality. Three user levels are provided: 'admin', 'user' and 'guest'. Administrators are able to edit and delete all user accounts and sessions, 'users' are able to save sessions and upload their own materials and 'guests' can only create learning objects from materials provided on the server.
The utility functions as a portable server application which can be branded without having to re-author in any way. Multiple instances can also be installed on the same server each with its own store folder so that the tool can actually be used as a web front end to an online collection of video materials - allowing its registered users to repurpose and re-use the already existing video clips/graphics/animations as they see fit. In this way, tutors with even limited IT skills can export their own customised video learning objects, packaged and ready for web delivery to students.
[view video shell walk-through 58.9MB]
[view exported video shell package]
[use video shell demo] Log-in as 'guest' using the password 'user'
[view project development log] Note that this is hosted on South Birmingham College's own server.
Administration Studies Dictation Audio Test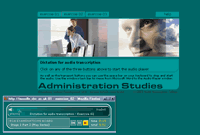 Generic Audio Player
An example of the use of the flash plug-in for streaming audio, this generic player was created to help students revise office studies dictation exercises (Oxford / Cambridge RSA Examinations Board)

This work was further developed to create an all-purpose audio player for the web delivery of any audio materials. This was particularly well suited to the provision of online lectures to students unable to attend lectures.
[view learning object] Note that this is hosted on South Birmingham College's own server.
Maslow Assessment (Transforming Teacher Training)
This learning object was created at South Birmingham College as part of the Transforming Teacher Training Programme funded by the UK government's Learning and Skills Council.
The flash format of this multiple choice assessment was so well received by students in user trials that a follow-up generic quiz tool was also commissioned.
Flash is often rightly criticised for failing to meet accessibility requirements. Here key capture scripts have been added to cater for users with physical disabilities or poor IT skills: as well as using the mouse, numbers on the keyboard can be employed to 'tick' any of the available choices. Additionally, all other buttons include keyboard shortcut keys which are clearly labelled in a windows-like fashion.
Generic Flash Multiple Choice Assessment Tool
Following on from the flash multiple choice assessments developed as part of South Birmingham College 's Transforming Teacher Training project this is a tutor-customisable, generic flash assessment tool. It uses external text and xml files to dynamically generate a quiz which can easily be re-purposed and adapted to cover entirely different subject areas and question-sets.
Flash-authored objects can be problematic in the field of e-learning as the rapidly changing syllabus can quickly make them irrelevant and obsolete. This development work towards generic shells which can be re-authored by tutors (without any knowledge of the flash authoring environment or a Macromedia Flash license) in turn led to the creation of the video shell project for X4L The Learning Bank.